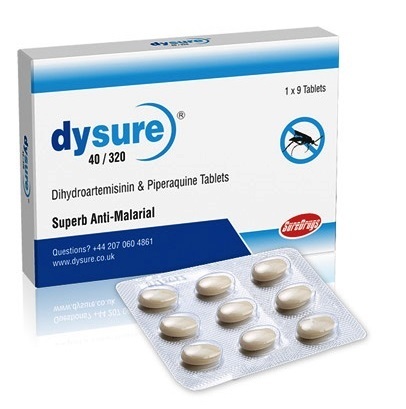 Dihydroartemisinin and Piperaquine Phosphate Tablets
Product Code : dysure Tablet
Product Description
DIHYDROARTEMISININ 40 MG PIPERAQUINE PHOSPHATE 320MG

INDICATION :

Dihydroartemisinin+ Piperaquine Phosphate Tablets are an oral fixed-dose artemisinin-basedCombination antimalarial and antiprotozoal agent. This combination therapy isused for treatment of all forms of malaria, including those caused by multidrug-resistant strains. Dihydroartemisinin + Piperaquine Phosphate is indicatedfor the treatment of various types of malaria including chloroquine-resistantP. falciparum and P. vivax.

40MG + 320MG

If you are a distributor, please inquire with us about product registration, importing and/or marketing our products in your country or region.

If you are a consumer, don't hesitate to contact us about more information for this product.