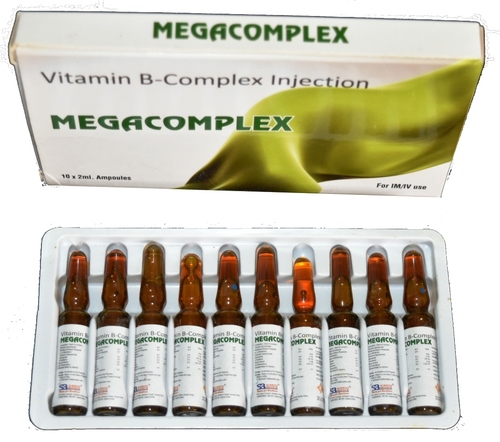 Vitamin B Complex Injection
Product Code : Megacomplex Inj.
Product Description
VITAMIN B-COMPLEX INJECTION 2ML

Vitamin B-Complex 100 Injection is a sterile solution for intramuscular or slow intravenous injection comprised of vitamins which may be categorized as belonging to the Vitamin B Complex group. Each mL contains: Thiamine Hydrochloride 100 mg, Riboflavin 5' Phosphate Sodium 2 mg, Pyridoxine Hydrochloride 2 mg, Dexpanthenol 2 mg, Niacinamide 100 mg, with Benzyl Alcohol 2% as preservative, in Water for Injection. Sodium Hydroxide and/or Hydrochloric Acid may have been used to adjust pH.